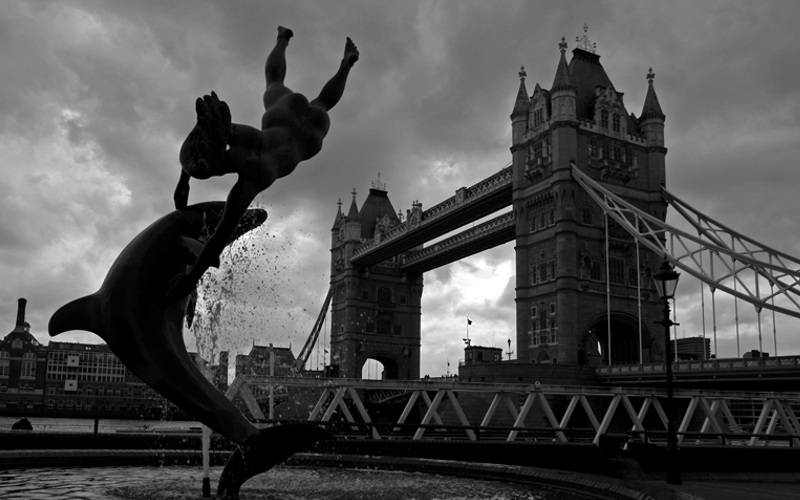 My blog was created to share my opinions about Salsa and to give knowledge to those newer in their Salsa journey. On Monday 24th October 2016, two promoters in London launched one of the most shocking and negative campaigns I have ever witnessed during my 12 years of dancing Salsa. This campaign was littered with misinformation, exaggerations, statements out of context and buzz words that are known to pinch nerves within the scene. The following statement was written and shared by the couple:

The target of this campaign was myself and a private event that I am hosting in January.
Salsa is, has been, and always will be a passion and hobby that I share with friends. So as you can expect my initial reactions were shock, anger and finally disappointment. After my initial reactions, it was time for personal reflection and to question why this happened? Was this merited? How could this be avoided in future?
In this blog, I will share my thoughts about this affair and correct misconceptions.
Note: In this post, I am going to share with you comments from private messages as well as secret Facebook groups. Under normal circumstances I would not share these, however, the promoter broke confidence and put these comments in the public domain.
Private Salsa Social
I am a well-traveled dancer and have made friends from all around the world. One of the unfortunate side effects is that I can not get all my friends in the same room at the same time. After discussing with friends from abroad I decided to leverage Stars of Salsa 2017, and create a party for myself, my friends and students (past and present). This event will feature two of my favorite DJs (Jamil Bacha and Loic Thomas) and a very highly recommended DJ (Patrick El Classico) who I cannot wait to dance to.
This event issue was not endorsed or associated with Stars of Salsa 2017. Their organisers, and most promoters in the London Salsa scene, were informed of my intentions in May 2016 — five months ago and seven months before the event will take place. A private event was created on Facebook, the social media platform for Salsa, to share information about the event. The body of the event text is as follows: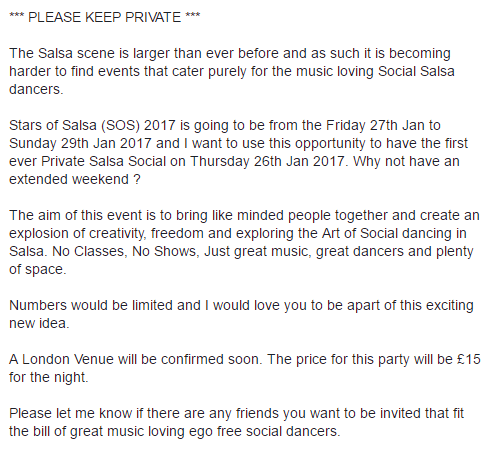 Myself and five friends were given the ability to invite friends from Europe to this event. The total number invited was 600 people with a limited capacity of 200.
I do not believe that you should ever be forced to justify, or be challenged, for hosting an event (private or not), nor should disagreements of ideas result in negativity.
Now that you have a fuller picture let me walk through the main talking points, give you context and to also raise some disturbing questions.
Clashing Date
Let us start off with the obvious aggrievance that is the unfortunate clashing of dates. As mentioned by the promoter, London has a secret Facebook group titled Promoter Collaboration, founded by myself five years ago to encourage early information and for us as promoters to try to avoid clashes when possible. This is not a 'first dibs' club, but about providing information in private to allow time for change before we go public. As such in May 2016, I made an announcement to the group that I was planning a small event on Thursday 26th Jan 2017 before the Stars of Salsa festival. The promoter in question stated that they have a night planned, to which I replied that I cannot move my date as my project requires the congress. This was how the conversation was finished: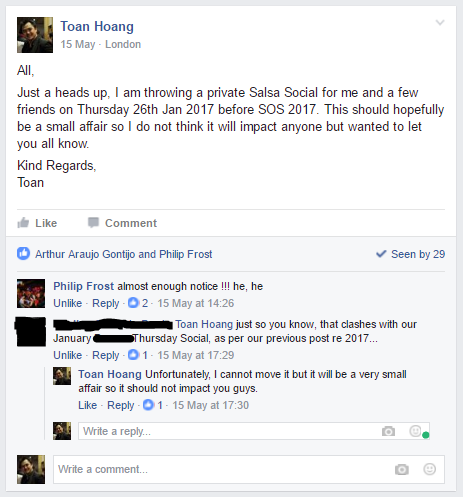 What you may not be aware of is that clashes are extremely common in London Salsa; it is a huge Salsa scene. Fridays BI-monthly El Rincon openly clashed with the TNT Cha Cha Social and Palladium Mambo (both well established). Salsa Fusion clashes with ULU on a regular basis, Unity clashed with Incognito's Putney and Bloomsbury house, the first I Like It like That clashed with the Pexava anniversary party. My flagship event in London, Salseology, once clashed with London biggest Latin night, El Grande.
In none of the cases was their public outrage, complaints or any form of negativity. When I clashed with El Grande, I messaged Uncle Phil to wish him good luck, he wished me every success and after our event, we had a drink. This is the behavior that I, as a promoter, have become accustomed to. This is the competitive respect that all promoters have shown each other since I have been involved with Salsa.
This was why my emotional roller coaster ended with disappointment.
So was this about the principle of clashing events? Were they upset that the event was private? but don't private events happen all the time? With seven months of notice, they could have moved their date. Even at the point of me writing this blog we are three months away so their event can still be moved. I am tied to the Stars of Salsa weekend due to the international nature of my event. There was a suggestion to move their event to a Wednesday, and why not?
Elitism
Elitism is one of the buzz words used to make people angry and spread negativity. I am accused of elitism because I am vetting (another negative buzz word) invites based on levels of skill. However, this notion was soon rejected by commenters who told the promoter that they were invited, planned to attend and are far away from being an elite dancer (whatever that is). Actually, some of the dancers are just starting their journey but are very good friends. I have been in Salsa for 12 years and have lots of friends and acquaintances on Facebook.
I mentioned directly to the promoter I have put a self-imposed limit of the party to 200 people which are a fraction of the people I know. The venue booked has a capacity of 400, however, I have decided to make a loss on the event and create something more intimate and special. Since TNT Dance was founded in November 2008 I have been working to grow and develop the Salsa community, as a result, this party was supposed to be a private gift to myself, i.e. having a weekend with my favorite dancers.
My aim was to convince 100 international dancers to visit from abroad who, given the wealth of options in Europe, may not have come to London. I leveraged the special nature of this event to convince friends to come and enjoy London. They will stay for the rest of the weekend bringing more people (and flavour) to Stars of Salsa. A win for the Salsa Scene.
Roughly 50 people from my TNT family will be attending, which leaves 50-ish dancers from London (very little considering the size of the scene). As mentioned, I do not believe that this would impact the promoters' event, especially as my event was unknown to many people until their post. Please see our full conversation below: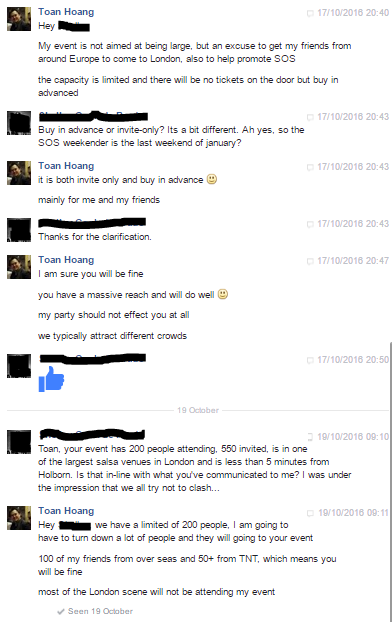 The promoter knew the facts and still decided to raise emotions and incite confict by claiming that I was choosing dancers based on ability. The comments were hurtful for dancers to think about as the Salsa scene is riddled with insecurities, and this does nothing to help. So, why did they brand this as an elitist event? Why did they say I was vetting people? Did a random post for laughs months ago cause this? One member of the Salsa scene messaged me and asked what was going on, I told him about the event and he was surprised about the tone as there is no mention anywhere of the dancer's level on my Facebook event page.
More importantly is the question of being offended for not being invited to a private party. I have seen pictures on Facebook of friends having birthday parties and not being invited. Why should anyone feel offended? If someone booked a room for a birthday party and then played Salsa music would people have reacted in the same judgemental way? Is there self-entitlement in Salsa? Because you have worked hard and learned how to dance, do people feel that they should be invited? Are the promoters self-appointed guardians of the Salsa scene, and is this how they think leaders should act?
Note: Let us talk about the size of the event for a moment. I informed the promoter that the venue has a limit of 200 people which I consider a small event. Some may think otherwise but a normal Tuesday night at my previous club regularly gets close to 150 people each week on a Tuesday night. Non-regular nights like Salsa Fusion gets 500 people and El Grande gets more than a 1,000. This is why I consider my event to be small. Given the DJs, venue and the first edition I could have opened this party up to 500 people.
Division
Now we come to one of the most disappointing aspects of this affair. Promoters of Salsa will have their own ideas of what is a good night and what they want to offer; from the venue they choose and the music policy through to the branding of their nights. The idea of being an ethical promoter is to tell people about what you are doing or offering and not try to put down others. It is all about the dancers choosing what works best for them. However, this was posted by the promoter: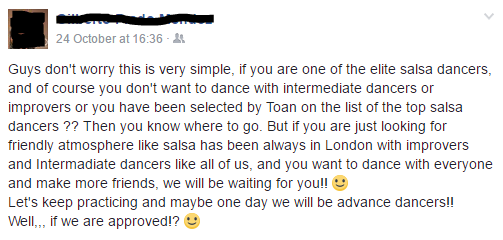 This is the most divisive statement I have ever heard from a promoter, and more so given how off brand it is for them. This statement is accusing everyone who is thinking of attending my private party of being elitist, not supporting the diversity of the Salsa scene. This form of guilt tripping is incredible given the number of people who have been telling them that this is not the case. I could not even begin to imagine what the promoters are feeling to be compelled to write (and persist) with such a statement which has been proven untrue.
More worrying was that this post gave dancers permission to jump on the negativity bandwagon and condemned my actions. Even those who were invited, knew the concept, clicked attending, and previously had no problem with a private event were suddenly self-righteous. This pack mentality was truly was shocking.
I have been thinking over the past few days with regards to the promoters' comments and I don't actually know what they hoped to achieve. Did they feel like a public shaming would make dancers believe that I am divisive and trying to destroy the scene? Dancers that over the years have shared moments with me and watched me push for live music and helped launch Salseology, bring exciting instructors to London, launched London Salsa Events and London Salsa On2. What about the other promoters out there? Was this to win them over? Most have seen how the Promoter Collaboration group grew from 10 people to 50 and now includes Bachata promoters and band leaders?
Aftermath
I cannot read minds or intentions so I cannot say why the promoters decided to share their outrage and produce one of the most negative campaigns seen in London. Claiming deceit, elitism and divisiveness were completely out of order, and this has been confirmed by more than 200 private messages shortly after in support of me and in condemnation of their actions. I wrote this article explaining my position and giving you, the reader, a chance to get a complete picture; especially given that this affair will dominate Salsa conversation for the next few weeks.
Having now presented my response to their post I would like to put this dark affair behind us and move forward. Given the comments and negativity hurled towards me, most would understand me being hurt, angry and ready to hit back. A few years ago I would have responded in a vicious manner but this is not who I am today, that is not what Salsa is or has ever been for me and I believe that we as figures in the scene should rise beyond this.
So with that said, for those who are coming to my event, I hope you enjoy yourselves guilt free.
[Updated | 30th Oct 2016]
A lot has been said on Facebook about this affair; the full list of comments can be found here:
Here is a small selection: