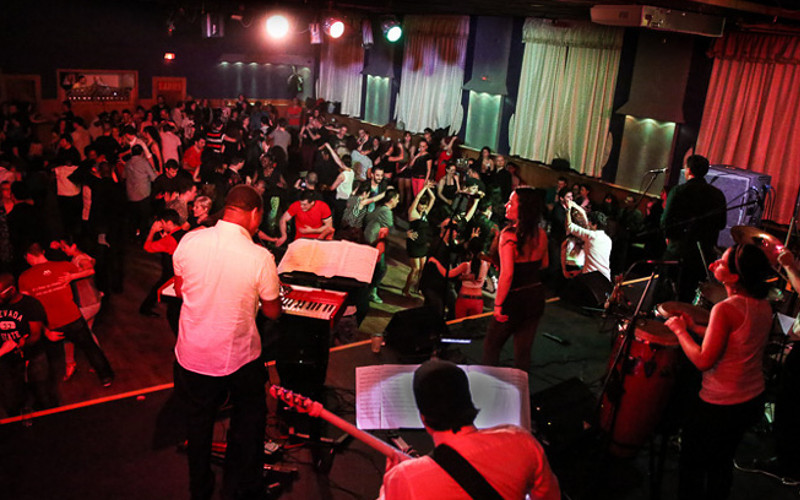 Three months ago TNT Dance (a Salsa company in London) and Salseology (London's award winning Salsa band) agreed on a date for the next Live Music Social, Saturday 16th November 2013.
Organising such an event is a lot of work but it is NOT something that is beyond the reach of the average dreamer. If you want to put on an event like this then it is well within reach. In this article I will document all the things that we did and the steps that we took to put this event on in the hope that we will inspire others to put on similar events.
DISCLAIMER: There are many ways to run an event and there is no such concept of right and wrong. I believe that this article can serve as a reference for those that have not run events before. 
PERSONAL AWARENESS
Before we talk about putting on an event you should always ask yourself questions about why you are doing it, who are you targeting, who can you reach, who will support you and who will not support you.
I remember one particular teacher who teaches really cheap and casual Salsa i.e. pay £5, dip a woman, have a laugh for the evening, go home at 10pm and be ready for work the next day. He then tried to throw a congress like event with very technical teachers, late night parties and premium prices. He did not spend time to understand his current value proposition and how this matched with the event he was trying to put on. As you can imagine it tanked.
TIP: Always understand your value proposition as the dance community perceives you.
OUR CHOICE: We have a strong association for On2 and did not want to discourage other dancers. This was a night to celebrate Salseology so we wanted to make this a generic night. The strictness of the night had to be removed so therefore we decided to teach On1 as well as On2 for the classes as well as playing Bachata music.
DECIDING ON A DATE
After you understand your value proposition you have to decide on a date. This is a very important aspect of putting on an event as you have to look at all other events which may potentially clash with your event.
Given the audience that we aimed to attract we ensured that we avoided events by Crossbody Salsa (using www.londonsalsaevents.com) promoters as well as avoiding major international congresses.
TIP: Clashing does not helping anyone but sometimes cannot be avoided. Understanding your value proposition and then making sure that you DO NOT clash with similar promoters is key.
OUR CHOICE: We decided on Saturday 16th November. This did not clash with any event in London and was a week after the Warsaw Salsa congress. The hope was that people would be recovering from the congress during the week and would be rearing to go by our night.
DECIDING ON THE VENUE
Choosing a good venue is about understanding the needs of your target dancers. Central London locations provide good accessibility but that comes at a premium price. The further away from central London the cheaper the venue and thus the cost of the night.
TIP: You have to strike a very careful balance between accessibility, venue attributes and costs.
OUR CHOICE: We used The Boston Arms for many events and we have a great relationship with the staff and management. This venue gives us exactly what we require as we have a great space (fits 400 dancers), great wooden floor, bar (without bar take pressures), in house sound system and free street parking.
DECIDING ON THE AGENDA FOR THE NIGHT
Having a clear agenda for the night is important as it allows your dancers to know what they are going to get. Based on the day of week it is always important to understand your time lines as well as understanding your target audience.
TIP: Be very clear here about your agenda for the night and put into a lot of thought here.
OUR CHOICE: We chose to have classes from 8-9pm, to have a DJ playing from 9-10pm, have a band set from 10-11pm (for the people that arrive and leave early), DJ from 11-12am, performance at 12am, band set from 12-1am (for people that arrive late and stay till the end) and then a final DJ from 1-3am. The agenda would allow us to manage the number of dancers arriving i.e. we expected a flow of dancers at 8pm for the classes; 10pm for the first live music set and finally at 11:30pm on the last Underground train.
DECIDING ON INSTRUCTORS AND DJS
Understand which instructors/DJs to hire depends on what your value proposition is and what you are trying to achieve. Are you looking for someone who will animate and keep a party lively; someone that could be strict and will amaze or someone who will bring a truck load of people?
TIP: A lot of people look at how many people an instructor will bring to the class and offset this against the cost of hiring him. The reality is that most instructors won't bring you many people unless they run a school of some form or are very good promoters. I have seen promoters hire an expensive teacher with a big reputation and then only see 4 people in his class.
OUR CHOICE: I would always like to use TNT teachers where possible and we chose to have Tina Stamou (co-founder of TNT) to teach the beginners On1 class. Nicola Lambert and I taught the intermediate On1 class and friends Adam Lailani and Andrea Stewart taught the Intermediate On2 class. We also had the triple team of Jamil Bacha (TNT resident DJ), Julian Summers and Sassia Michel – we have worked extensively with all three DJs and have a massive amount of trust and respect for their work.
DECIDING ON THE PROMOTION
In terms of promoting a Salsa event I see three main channels: flyers, social media and word of mouth. Understanding which channel to focus on is key to making sure you don't add unnecessary costs. It is also good if you can draw on experienced members of the Salsa scene to help promote and spread the word.
TIP: Marketing is an art form. I would suggest experimenting with each and seeing which ones is the most effective for you.
OUR CHOICE: We chose to do a combination of all three channels. We produced 2,000 flyers for this event and handed them out at all major London venues from which we hoped to draw our clientele for the night. Venues included: The Boston (TNT), Bar Salsa (Monday), Pexava, Salsa Fusion, El Grande, ULU and SOS. We also invested into Facebook pay per click (PPC) to allow the Salsa community on Facebook to see the event even though we are not directly connected. I also did a two week tour before the event of several London clubs to sell tickets. We also asked several of our friends and fellow promoters to give us a shout out.
OPERATING THE NIGHT
The night is for the dancers and not for you. I often say that I very rarely enjoy my own nights as I am working to ensure that everyone who walks through that door is having a good time. There will be curve balls thrown at you on the night but the main thing is to stick to the game plan.
TIP: Always have a written itinerary for the night and send these to all the people involved. This will ensure that everyone on the night is on the same page.
OUR CHOICES:
We sent the following itinerary to all participants on the night:
We would firstly like to thank you for all your help in promoting and getting the word out for the Salseology Live Music Social. I have a feeling that it will be a night to really remember.
We would like to thank you all for your help and present the itinerary for the night.
18:00 – 20:00 – Venue Access, Floor Fix, Band Equipment Setup
18:00 – 19:00 – Performance Dress Rehearsals and Band Sound Check
20:00 – 21:00 – Classes
21:00 – 22:00 – DJ Sassia
22:00 – 23:00 – Salseology Set 1
23:00 – 00:00 – DJ Julian Summers
00:00 – 00:10 – Pexava Performance
00:00 – 01:00 – Salseology Set 2
01:00 – 03:00 – DJ Jamil Bacha
PHOTOGRAPHY
Adel – Thanks for agreeing to be the camera/video man on the night. Arrive when you can and take whatever pictures you fancy.
CLASSES
What we currently have scheduled is beginners On1 with Tina Stamou, Intermediate On1 with Toan Hoang and Intermediate On2 with Adam Lailani and Andrea Stewart.
The TNT team will be around to support but do bear in mind that the main aim is to make sure the students have FUN before a long night. This is NOT an overly serious learning class but one to get people happy and cheering. There is a long night ahead. In times gone by we get between 30-50 students.
DJ
Jamil, Julian, Sassia – You are the DJ's on the night and we would like the following order: Sassia first, Julian second and Jamil closing the night. Please feel free to discuss this amongst yourselves if you want to change the order to play it in another way. I know Jamil won't arrive until late. Sassia – would you be able to arrive around 8ish to set up and get ready?
Please bear in mind that this is not a TNT event but we are going to aim for a large number of the general public. Bachata is also on the menu (don't go OTT on this), the same goes for Cha Cha (don't go OTT).
BAND
Darius – As always please let me know when you are ready to go on. We will delay by up to 15 minutes to ensure the best crowd possible. Please also fill in the spread sheet for the band members. I am going to be printing the various lists tomorrow night.
DOOR
Niki, Pilar – Please arrive around 7 to set up the door and cloak room. Pilar will be managing the cloak room but we will all help out. There are 3 waves on the night 1) Start of the night around 7:45-8:15pm, 2) when the social starts between 9:30-10pm and 3) around 11:30-12am on the last tubes. Thang should arrive around 11:30 to help with the final rush. I will also be on hand as well.
If anything comes up please let me know.
Toan
P.S. Please reply to acknowledge that you have read this lengthy message (apologies for that)…
SUMMARY
Once you have an idea for an event there are many things that need to be considered. There is a lot of work involved but it is very possible if you really want to. Do not get me wrong it is not easy but very rewarding.
I hope this article has shown how possible it is to run an event and encourage you all to dream up ideas and go for it. The more people trying the more chances of some of these events becoming established.