Salsa System of Measurement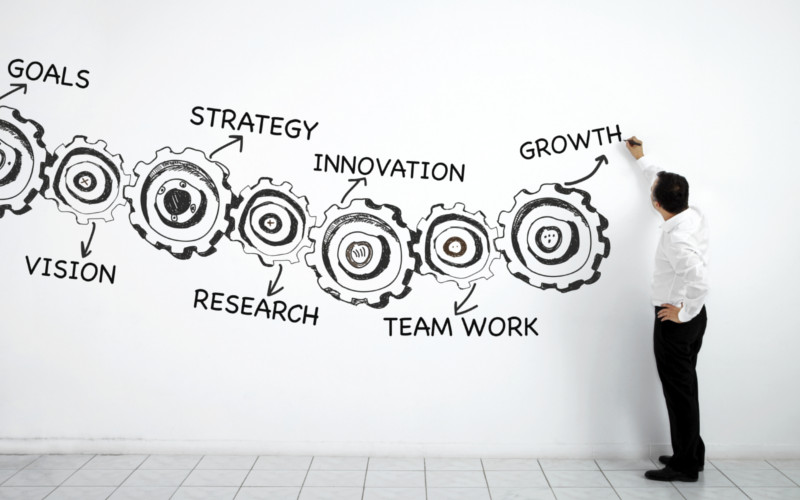 I am forever looking to grow in every aspect of my life. From moving forward in my career to improving my skills on the piano, to working on my interpersonal skills. I will set up three things to aid my growth: 1) a system, 2) a form of measurement and 3) a schedule.
A lot of Salsa dancers from beginners to advanced have asked me "How can I improve my dancing?" and I will always walk them through my personal development system, so now I will present this for your consideration. This is a very high level and I would normally spend hours talking to students and working out the finer details for growth.
SYSTEM OVERVIEW
Salsa has no limits and no one is a complete dancer. There is just so much to learn and that fact can easily overwhelm you. I have chosen a divide and conquer approach to improving my Salsa and have created one core and four specialised modules:
Core: Fundamentals
Module A: Partner work
Module B: Individual work
Module C: Body Movement
Module D: Musicality
A few points to note about the system 1) all the specialised modules are built on the Core, 2) there will be overlap between the modules and 3) my preferred learning technique is to tackle problems in isolation and then merge them into my dancing afterwards.
CORE: FUNDAMENTALS
The fundamentals of your dance are what everything else will be built on top of and just like a building you never want to have shaky foundations. Here is a list of things that I would list:
Music – At a basic level you will be able to identify the various timings and aspects of Salsa music. After which comes applying your body to various timings and finally to be in control, reading the flow and energy of the music. I have written a basic article which gives you a simple framework described here.
Body – Dancing is a physical activity. Your body will need to be addressed to further your development in Salsa. Broadly speaking you can take into consideration: posture, balance, and fitness, yes, fitness will be a barrier when you try to progress.
Awareness – Of your environment, your partner and yourself. This will allow you to gauge what you are weak and strong on, what your partner prefers and what your environment allows.
MODULE A: PARTNER WORK
Let's break down partner work into three sections:
Technique Library – There are only so many techniques for partner work; our vocabulary at a beginner's level is very limited. This applies to both leading and following techniques. The key for the leader is to appreciate your partner and understand what is possible. For followers, it is about being able to read and respond to various signals in a consistent manner. The highest form is when you transfer the music through your partner's work, or if you are not just following, but feeling the music through the lead, this requires an active and engaged follower.
Positioning – Position is something that is seldom emphasised, but makes or breaks partner work. At the lowest level, your move (turn pattern) will dictate your positioning e.g. doing a crossbody lead means that I need to be here. At the higher levels, you learn to position yourself to your advantage such that every lead is effortless. For a follower, it is about always understanding where you are and where you should be, how you can work with your partner and allowing your partner to show you his interpretation of the music.
Agility – Most people will gravitate toward their preferred pace and style of Salsa. Some people are naturally slow, some are naturally fast. Salsa music is extremely varied. As you progress in your journey, you will become agiler in how your ability to dance according to the music. You will be able to speed up, slow down or groove at will depending on how you hear the music.
MODULE B: INDIVIDUAL WORK
Technique Library – At the basic level, we learn shines, but its purposes are often confused. For me the purpose of teaching shines is to allow your body to experience certain movements e.g. the Suzy Q allows a student to learn how to cross one foot in front of another, and flares give you an experience of extending your legs straight to the side. These techniques enable you to produce a greater range of movement. At the basic level, an understanding of these movements is paramount. At the higher levels, you will start to think about applying movements at different rhythms.
Engagement – It is quite a daunting task to perform solo work, it is even harder to pass this movement on to your partner and allow them to hear what you are hearing and feel what you are feeling. This is achieved by being clear in your intentions and allowing all your movements to have a purpose.
MODULE C: BODY MOVEMENT
Range of Movement – The first task is to be able to move your body in a controlled and intended manner; most beginners throw their bodies as opposed to moving them. Once you have this awareness of movement then you go about increasing the range of movement.
Application of Movement – Once you have the range of movement you need to understand how to apply it to your dance, what range suits you, and how fast or slow should such movements be performed.
MODULE D: MUSICALITY
Footwork to Music – Your ability to apply your footwork to music.
Partner work to Music – Your ability to apply your partner's work to music. This is very limited for followers without taking the initiative in leading or hijacking.
Body Movement to Music: Your ability to apply your body movement to music.
MEASUREMENT
Now that we have a system in place this is where the fun really begins. As objectively as possible we can grade ourselves relative to your own standards and goals:
CORE FUNDAMENTALS: MUSIC [?/10]
CORE FUNDAMENTALS: BODY [?/10]
CORE FUNDAMENTALS: AWARENESS [?/10]
MODULE A PARTNER WORK: TECHNIQUE [?/7]
MODULE A PARTNER WORK: POSITIONING [?/7]
MODULE A PARTNER WORK: AGILITY [?/7]
MODULE B FOOTWORK: TECHNIQUE LIBRARY [?/7]
MODULE B FOOTWORK: ENGAGEMENT [?/7]
MODULE C BODY MOVEMENT: RANGE [?/7]
MODULE C BODY MOVEMENT: APPLICATION [?/7]
MODULE D MUSICALITY: FOOTWORK [?/7]
MODULE D MUSICALITY: PARTNERWORK [?/7]
MODULE D MUSICALITY: BODY MOVEMENT [?/7]
For myself (as of the time I wrote this article), I have:
CORE FUNDAMENTALS: MUSIC [6/10]
CORE FUNDAMENTALS: BODY [5/10]
CORE FUNDAMENTALS: AWARENESS [8/10]
MODULE A PARTNER WORK: TECHNIQUE [7/7]
MODULE A PARTNER WORK: POSITIONING [7/7]
MODULE A PARTNER WORK: AGILITY [6/7]
MODULE B FOOTWORK: TECHNIQUE LIBRARY [4/7]
MODULE B FOOTWORK: ENGAGEMENT [4/7]
MODULE C BODY MOVEMENT: RANGE [4/7]
MODULE C BODY MOVEMENT: APPLICATION [3/7]
MODULE D MUSICALITY: FOOTWORK [3/7]
MODULE D MUSICALITY: PARTNERWORK [6/7]
MODULE D MUSICALITY: BODY MOVEMENT [3/7]
Now if you match your score against the following results table:
0 – 20: Beginners
21 – 40 Improvers
41 – 60 Intermediate
61 – 100 Advanced
FINAL THOUGHTS
I have laid down my personal system for measurement, and have an overall score is 66, which means after 8 years of intense Salsa training, where 2 years were spent dancing 7 days a week, I have just reached what I would consider an advanced Salsa dancer. At first, this was a surprise and a shock. But now it is a source of great enthusiasm, motivation and guidance.
In a world where we never have enough time or resources to do all the things we want, we have to be more targeted with what we do. By looking at my example I can see that the greatest use of my time will be to work on Footwork and Musicality. The least productive use of my time would be to attend partner work classes. This allows me to break away from my comfort zone and progress. I could also run this assessment year after year to measure my progress.
This is my personal system, one that I have personally developed. Take this system and use it if you fancy or develop your own, but either way, I would love to know what your thoughts are, this is not to allow you to compare yourself to others, but to enable you to take better control and monitoring of your learning.